From our company owned factory where we strictly check the condition of manufacturing and quality control based on GQP standards, we offer pharmaceuticals that are manufactured conforming to GMP.
Specializing for a long time in medicines for external use, our experienced staff with a thorough knowledge of quality characteristics will take on the manufacturing on assignment (OEM) to meet your needs.

At our quality department with consideration towards PIC/S GMP, we will endeavor to gain the trust of our customers by engaging in further high-level quality control.
QUALITY AND SAFETY CONTROL
We regularly check the management conditions of our company hardware (manufacturing facilities, testing facilities) and software (quality risk management, change control, deviation, safety monitoring, management of raw materials, various standards including validation etc., SOP etc.), executing appropriate manufacturing control and quality control, thus supervision a further high level of control.
On receiving inquiries concerning the quality of a product, we will promptly investigate to determine the cause of any issue, and if the cause is in the factory in any way, we will give out appropriate improvement instructions to bring about quality improvement.
Even towards the manufacturers of raw materials, we check the conditions of manufacturing control and quality control in the same way we do at our own factories. At the factories supplying raw materials, we regularly carry out on-site investigations to confirm that they are being manufactured under appropriate manufacturing control and quality control.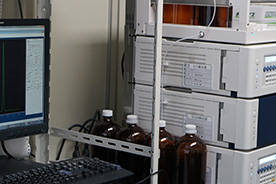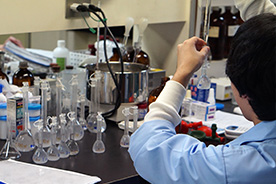 Main equipment in our quality control department

Liquid chromatography 6 units
Potentiometric titrator
Infrared spectrophotometer
Gas chromatography 3 units
Electrical conductivity meter
LABORATORY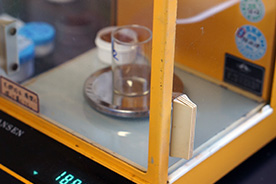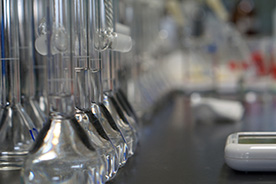 Installing equipment necessary for the testing of raw materials, manufacturing environment, and products, we do our testing under GMP management. We also handle stability tests and microbial tests.